Autumn Retreat 2021
October 17 - 24, 2021
Celebration – Open Hearts
Celebrate balance, wellbeing and conscious awareness. Come visit the Sanctuary for our Autumn Retreat and immerse yourself in the heart-opening and enlightening energies that reside here.
Join us in this haven of health and wellbeing and experience your own innate joy and aliveness through yoga, NIA dance, T'ai Chi, transformational Sound Bath, and an evening concert featuring traditional Indian music and chant.
Sink into deep, renewing meditations, explore our array of Wellbeing Services, enjoy our beautiful grounds and spend time with friends.
Cherished friends from Shanti Mandir Ashram will be also joining us for the weekend to honor and celebrate our founder, MC Cannon. Events will include a Yagna, an instrumental concert and an evening session with the delightful Mahamandaleswar Swami Nityananda who will be spending time with us and is happy to take your questions.
We look forward to a memorable week of reunion and new beginnings. Our hearts are open and we would love for you to be part of the celebration.
————————————————————————
What's included in your Retreat package:
*A retreat schedule with plenty of time to relax, rejuvenate and spend time in good company with friends
*A full week immersed in the enlightening, empowering and radiant Sourcefield that is the heart of Sanctuary
*All meals: Enjoy our wildly delicious locally sourced (where possible) and organic plant based meals
*Daily meditation with Synchronicity High-Tech Meditation
*Learn the calming art of T'ai Chi and gentle Hatha & Energy Medicine Yoga
*Daily presentations on different Holistic Lifestyle topics with long term Sanctuary staff (Optional)
*Yagna, a transcendent ancient fire ritual by Brahmin Priest Prabal
*Sound Bath Concert with Megan Sprague
*Friday and Saturday programs with Mahamandaleshwar Swami Nityananda including a question-and-answer session
*Illuminating santoor concert by our friends from the Shanti Mandir Ashram
*Explore the beautiful walking paths through the forest and grounds, for exercise or time to commune quietly with nature or simply sit and forest bathe
*High-speed WiFi in all buildings
*1 Transcendental Journey. High-Tech Meditation Music moves you into a transcendent state of expanded consciousness while aroma generators and subdued lighting complete a transporting environment. The resultant transcendental experience is an empowering journey. Guests often share creative inspiration, enlightening insight, deep clearing, and life-changing revelations. A facilitator will assist you in starting and leaving the session.
Retreat Schedule: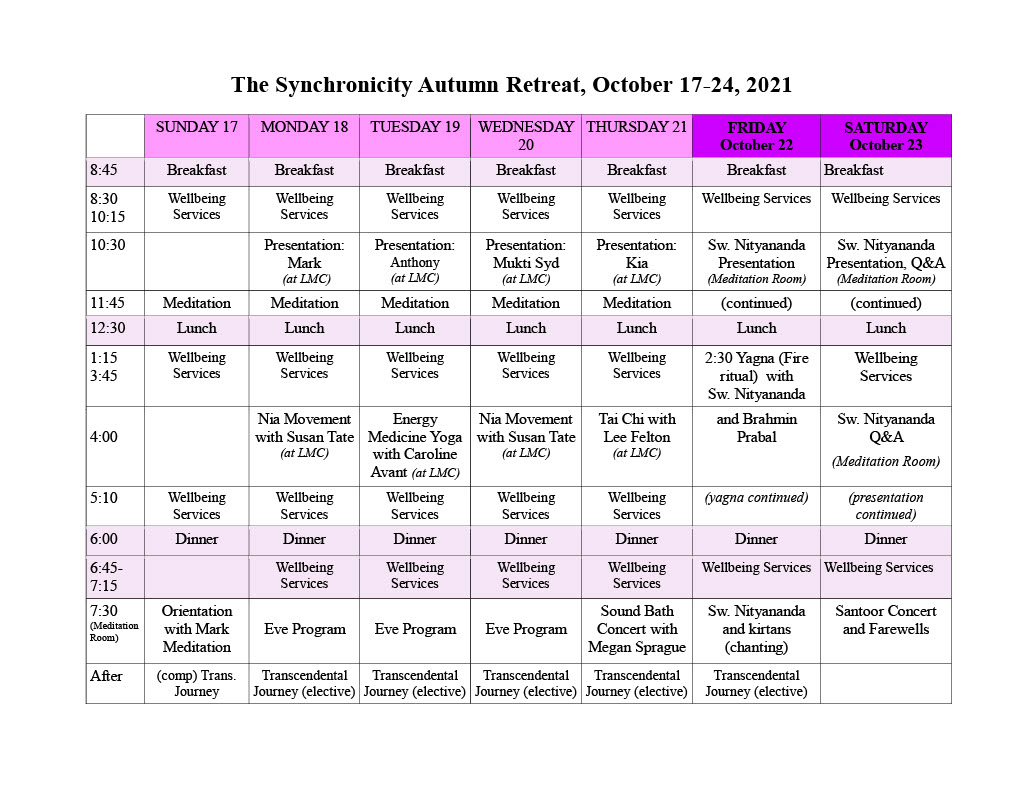 ————————————————————————
What's not included in your retreat fee:
*Airport transfers if flying into local and regional airports. For a list of transfer services and other helpful travel resources, click here: Traveling to The Sanctuary
*Additional Wellbeing Services sessions. For a full list of additional services to complement your stay, click here: Wellbeing Services
————————————————————————