Transform Your Life: Tools for Inspired and Empowered Living
October 15 - 22, 2022
Transform Your Life: Tools for Inspired and Empowered Living
A Synchronicity Foundation Signature Retreat
You are invited to join us for this life-changing retreat and:
Immerse yourself in the healing energies and transformational power of our Sanctuary Retreat Center.
Experience deep rest and renewal.
Learn conscious, practical and life changing tools to enhance your spiritual awakening process and increase the power of your awareness.
Enjoy daily meditation with Synchronicity High-Tech Meditation® soundtracks that use sonic technology to balance your brain hemispheres and create deep and profound meditative states.
Learn how to live The Holistic Lifestyle™, a way of being that opens you to abundance and higher consciousness.
Feel the freedom as your physical, mental and emotional dimensions come into balance and harmony.
Savor our delicious menus of locally sourced (as available) and plant based food (with occasional chicken on the side).
Experience energizing wellbeing services from bodywork to Energy Medicine Yoga and Nia movement.
Indulge in unique, High-Tech wellbeing services selected just for you that soothe away stress and return you to a balanced and harmonized state.
Go home with newfound energy, inspiration and transformative tools to enhance your continued self-empowerment.
"The energy here at the sanctuary is like nothing you've experienced anywhere else. It's clear that this whole place has been designed from the bottom up to facilitate our spiritual evolution." –D.S.
"At the retreat you just get more expanded and more blissful and more expanded and more blissful." –J.G.
"With High-Tech Meditation® I get away from my mind and start to experience the deep meditations the technology gives you. I didn't experience that with regular meditation without the technology."
C.L. Chicago, IL
What's included in your 5-Day Transform Your Life retreat package:
*Six or seven nights of accommodation* – The retreat begins on Sunday, October 16th. You may arrive on Saturday, October 15th, or Sunday the 16th by lunchtime. Dinner, lodging and Sunday breakfast are included in the price for Saturday arrivals.
*Our delicious locally sourced (where possible) plant based meals (with occasional chicken on the side)
*Plenty of time to relax and enjoy our forested walking paths and commune quietly with nature
*Daily meditation with Synchronicity's High-Tech Meditation® Sonic Technology
*Daily presentations on holistic tools to increase your balance and self-empowerment
*Evening sessions that combine fun and meditation
*4 powerful Wellbeing Services specifically selected to enhance your stay:
-An Energetic Balance Enhancement Session. This highly regarded technology operates on the energy frequency information level of human experience. It starts with an energetic analysis to detect physical, emotional, and mental dimensional imbalances. It then sends harmonizing and balancing frequencies into your vital energy field and accelerates the clearing and integrative processes that accompany wellness practices and inner growth.
-An Amethyst BioMat Session. This is a full-body healing mat that includes a combination of three therapeutic applications to support wellness and wellbeing. It uses Negative Ion generation, Far Infrared Light generation, and Amethyst crystals. Drink plenty of water before and after sessions and wear natural fabrics.
"Lying on the Amethyst BioMat was a nurturing and rejuvenating experience. The warmth of the mat soothed my aching muscles and eased tension. I even slept better that night!" –M.A.
-A Brainwave Enhancement Session. This service generates pulsed electromagnetic frequencies in the Gamma, Alpha, Theta and Delta ranges to stimulate your brain into a peak experience. Your brain integrates the new, powerful frequencies to further evolve your own meditative brainwave pattern. Multiple sessions are a popular choice as each builds cumulatively on the preceding one.
-A Transcendental Journey. High-Tech Meditation Music moves you into a transcendent state of expanded consciousness while aroma generators and subdued lighting complete a transporting environment. The resultant transcendental experience is an empowering journey. The Transcendental Journey happens in a specially designed space with a tall platform bed surrounded by sonic meditative technology conductors to create a transformative experience. Guests often share creative inspiration, enlightening insight, deep clearing, and life-changing revelations.
*Plan to arrive by lunchtime Sunday the 16th. (Dinner, overnight and Sunday breakfast included in price for Saturday arrivals.) 
Retreat Schedule: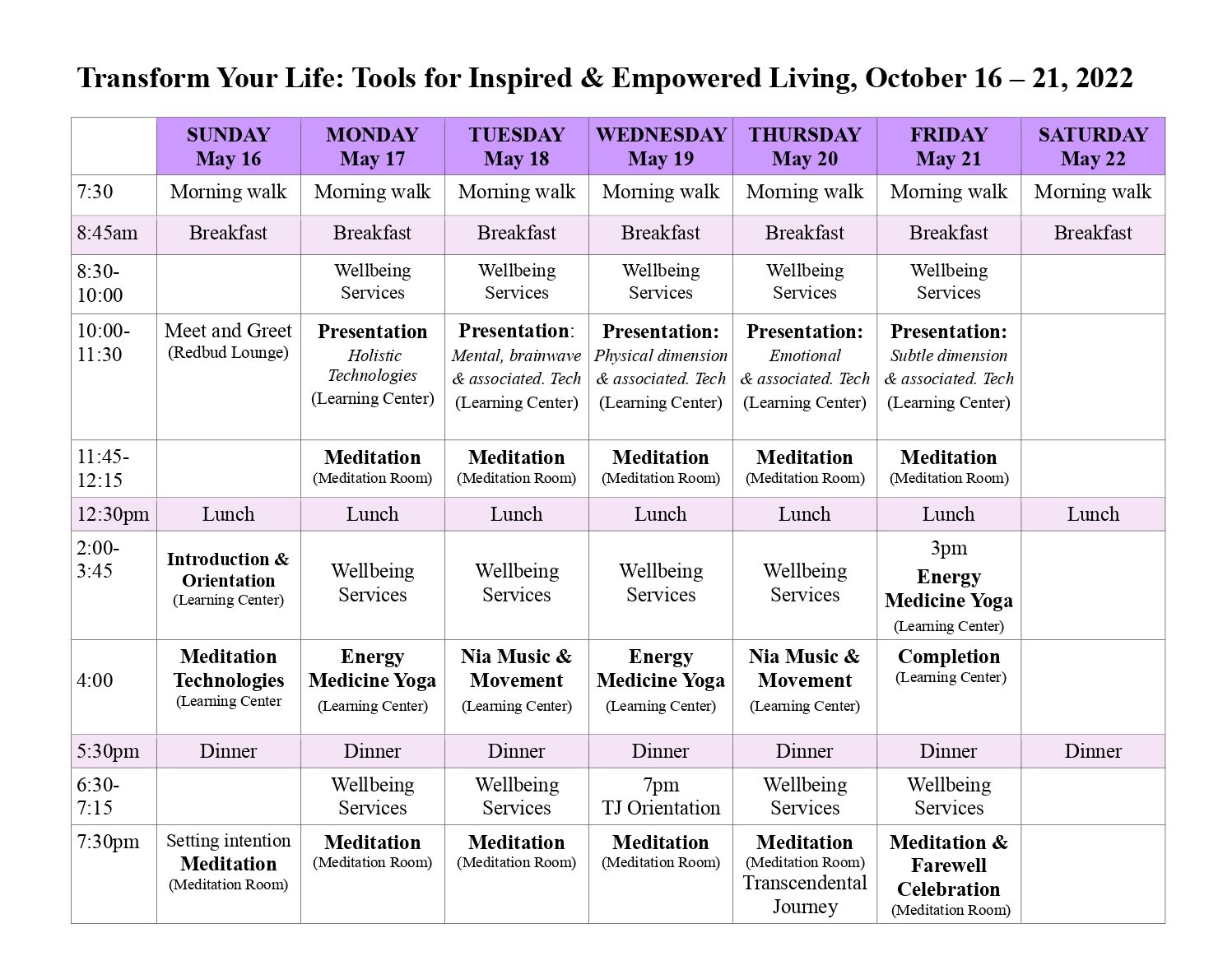 ————————————————————————
What's not included in your retreat fee:
*Airport transfers. For a list of transfer services and other helpful travel resources: Traveling to The Sanctuary
*Additional Wellbeing Services. For a list of services to complement your stay, click here: Wellbeing Services
"I have pretty deep and profound meditations at home. So when I come here [for a retreat], it's kind of jumbled a little bit in the beginning. And then it just builds and builds. Usually by the end of the retreat it's a much deeper, more profound meditation than when I arrived. So there's a process that goes on and that is the process of growth. And when I leave, the result is readily and easily visible." –C.L.
————————————————————————